We P.G. Drive are Manufacturers, Exporters & Leading Suppliers of Heliworm Gearboxes Located in Mumbai, India.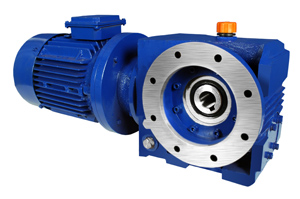 Heliworm Flange Mounted Gear Motor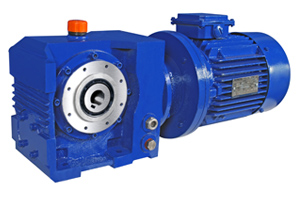 Heliworm Shaft Mounted Gear Motor
P.G.Drive offers Heliworm geared motors with hollow and solid shaft output configuration. The design offered is compact and highly efficient to attain low speed. Output shaft is placed at right angle, in order to motor shaft or input shaft. The gearbox is provided with two mounting faces that are at right angle to each other & with identical mounting dimensions. The first stage reduction is achieved by helical gears, which is followed by worm gear reduction. We offer our Heliworm geared motors with output shaft at both ends. The Heliworm gear reducers are offered in foot, flange and direct face mounted configuration.

Features
• Graded cast iron housings
• Alloy steel gears for high strength & durability
• Worm : steel hardened & profile ground
• Worm wheel: graded phosphorus bronze
• Taper roller bearings on input and output shaft
• Dc or ac supply
• Flame proof and brake motor options
• Single or dual speed motor
• 3 Decades of field experience in Textile, Pharmaceuticals, Chemical, Cement, Sugar, Plastics, Rubber & Allied Industry.

| | |
| --- | --- |
| Model / Size: | 45Hw..….125Hw / 4 Sizes |
| Transmittable Torque: | 50 Nm ……7500 Nm |
| Rated Power (N1 = 1440 Rpm): | Upto 7.5 Kw (10 Hp) |
| Gear Ratios In | = 20 To 200 |
| Input Configuration : | Iec Direct Motor Mtg , Solid Keyed Shaft |
| Output Configuration : | Solid Keyed Shaft , Hollow O/P Shaft |
| Mounting Configurations : | Foot Mounted, Flange Mounted , Direct Hollow Shaft Mounted |