Parallel Shaft Helical Gear Reducers
We P.G. Drive are Manufacturers, Exporters & Leading Suppliers of Parallel Shaft Helical Gear Reducers Located in Mumbai, India.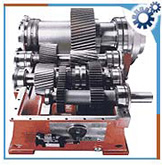 P.G.Drive now offers parallel shaft helical gear reducers. The universal mounting design finds versatile use in all industries. The series has been developed on a platform similar to the extruder gearboxes and the range offered is comprehensive. The UHB series is the first product to prove equally good in regard to efficiency and versatility within a highly competitive context, both performance- and price-wise.